The Guardian: LONDON, England – The White House on Monday responded critically to widely shared images of US border patrol agents in Texas rounding up Haitian migrants on horseback.
The White House press secretary, Jen Psaki, was asked if the use of horses and possibly whips, potent imagery in a country founded on slavery, represented an "appropriate tactic".
She said: "I have seen some of the footage. I don't have the full context. I can't imagine what context would make that appropriate."
She added: "I don't think anyone seeing that footage would think it was acceptable or appropriate."
More than 6,000 Haitians and other migrants have been removed from the encampment at the Texas border town of Del Rio, other US officials said Monday as they defended their strong response.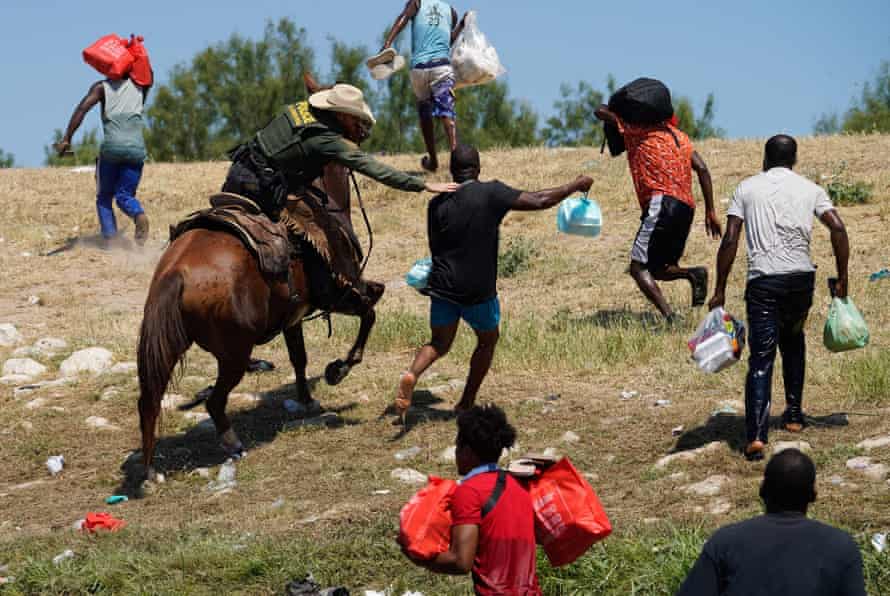 Calling it a "challenging and heartbreaking situation", the homeland security secretary, Alejandro Mayorkas, issued a stark warning: "If you come to the United States illegally, you will be returned. Your journey will not succeed, and you will be endangering your life and your family's life."
Mayorkas and the border patrol chief, Raul Ortiz, said they would look into the actions of the agents on horseback to push back migrants and refugees at the river between Ciudad Acuña, Mexico, and Del Rio, but both officials said they saw nothing apparently wrong based on the photos and video.
In the past few weeks more than 12,000 Haitians have arrived in Del Rio, gathering in a huge makeshift camp under and near a bridge. Many have moved between the two cities, seeking food and supplies in Mexico while family members wait in the US. Haitians have migrated to the US via South America for several years, many through the Darien Gap, a jungle in Panama.
Some recent arrivals have said the recent devastating earthquake in Haiti and the assassination of the president, Jovenel Moïse, made them afraid to return.
Nonetheless, the US has begun an operation to fly thousands back to their homeland and stop others from crossing from Mexico, beginning what could be one of America's swiftest, large-scale expulsions in decades.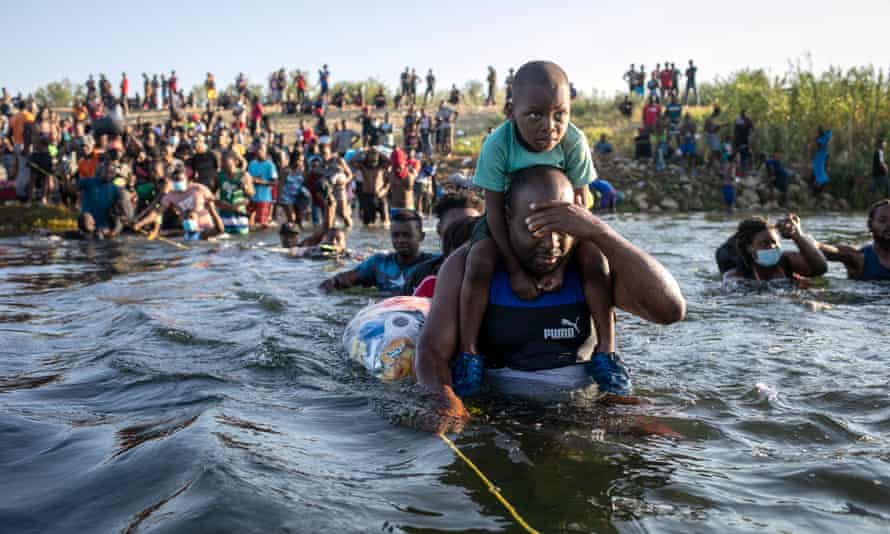 The only obvious parallel for such a mass expulsion without opportunity to seek asylum was in 1992, when the US coast guard intercepted Haitian refugees at sea, Yael Schacher, senior US advocate at Refugees International, told the Associated Press.
When the border at Del Rio was closed on Sunday, migrants and refugees moved further east to cross the Rio Grande River, which separates the US and Mexico. They were stopped by border patrol agents on horseback and law enforcement officials.
Paul Ratje, a photographer who took a widely circulated image of an agent on horseback grabbing a migrant carrying food, told the Washington Post: "I get to the scene and everybody is crossing there … all of a sudden some police showed up and they started trying to get people to leave. Then the border patrol agents on horseback arrived and they started trying to get people to leave."
Mexican authorities in an airboat told others to go back into Mexico. According to reporters at the scene, US agents yelled at migrants to get out of the waist-deep river. Several hundred who had crossed were ordered to the Del Rio camp.
"Go now," agents yelled. According to a reporter for the El Paso Times, one agent "swung his whip menacingly, charging his horse toward the men in the river".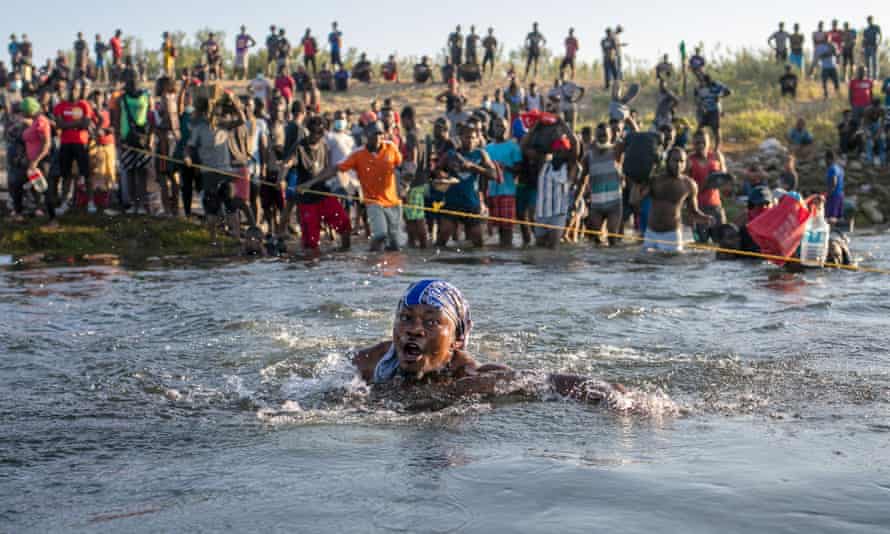 Border patrol agents in the remote area of Texas often use horses, given the difficult terrain. It was not clear if whips were used on Sunday.
On Monday, Mayorkas told reporters he had been told "that to ensure control of the horse, long reins are used, but we are going to investigate the facts to ensure that the situation is as we understand it to be, and if it's anything different, we will respond accordingly."
Vice News reported that agents sometimes used long reins to "deter people from getting too close to the horse".
Ratje said migrants had tried to run past agents on horseback. "That's when one of the agents grabbed a guy and kind of swung him around," he said, of the picture he took.
In Haiti, more than 320 migrants arrived in Port-au-Prince on three flights on Sunday and six flights were expected on Tuesday. The US planned to begin seven expulsion flights daily on Wednesday, four to Port-au-Prince and three to Cap-Haïtien, an official told the AP.
The expulsions were made possible by a pandemic-related authority adopted by Donald Trump that allows for migrants to be immediately removed. The Biden administration exempted unaccompanied children but let the order stand. Republicans in Washington have sought to use events in Del Rio to portray a southern border spun out of control.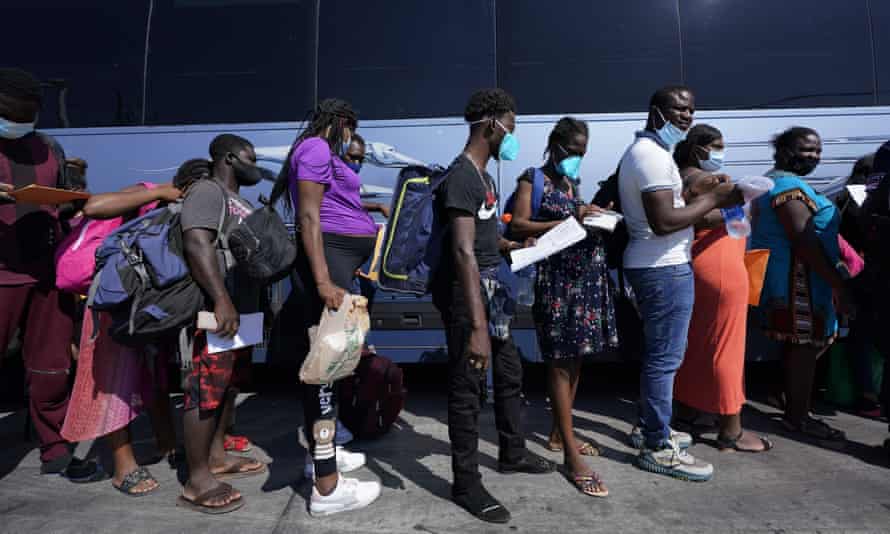 Mexico has said it will also deport Haitians. In Port-au-Prince on Sunday, dozens of returning migrants lined up to receive plates of rice, beans, chicken and plantains. All were given $100 and tested for Covid-19, though authorities were not planning to put them into quarantine.
Gary Monplaisir, 26, said his parents and sister lived in Port-au-Prince but to reach their house he, his wife and their five-year-old daughter would have to cross a gang-controlled area where killings are routine.
"I'm scared," he said. "I don't have a plan."
He said he moved to Chile in 2017, as he was about to earn an accounting degree, to work as a tow truck driver. He paid for his wife and daughter to join him. They tried to reach the US because he thought he could get a better job and help his family in Haiti.
"We're always looking for better opportunities," he said.
Some said they were planning to leave Haiti again. Valeria Ternission, 29, said she and her husband wanted to travel with their four-year-old son back to Chile, where she worked as a bakery cashier.
"I am truly worried, especially for the child," she said. "I can't do anything here."
Top Feature Photo: A United States border patrol agent on horseback tries to stop a Haitian migrant from entering an encampment near the international bridge in Del Rio, Texas, on Sunday –

Paul Ratje/AFP/Getty Images