WFMY News2: JACKSONVILLE, Fla — The National Hurricane Center has labeled the area in the western Gulf of Mexico potential tropical cyclone four as of its 5pm update on Friday. This after Hurricane hunters flew through the storm Friday evening. Based on available data the storm is expected to strengthen and become a tropical storm before making landfall in South Texas. At this time Tropical Storm warnings have been issued there. 
There are no threats to the First Coast at this time, but there is an area the Hurricane Hunters are scheduled to investigate on Friday in the southwestern Gulf of Mexico. This is likely to be a rainmaker for Mexico and extreme southern Texas through the weekend.
Per the National Hurricane Center's Friday Afternoon update:
For the North Atlantic…Caribbean Sea and the Gulf of Mexico:
1. Southwestern Gulf of Mexico: Satellite imagery indicates that showers and thunderstorms associated with the broad low-pressure area over the southwestern Gulf of Mexico and the Bay of Campeche continue to become better organized. Environmental conditions appear favorable for additional development, and a tropical depression could form later today, tonight, or on Saturday while the system moves northwestward across the southwestern and western Gulf of Mexico. However, by Saturday night, the system is expected to move inland over northeastern Mexico, which will end its chances of development. An Air Force Reserve Hurricane Hunter aircraft is currently enroute to investigate the system. Interests along the northeastern coast of Mexico and the lower Texas coast should monitor the progress of this system. Regardless of development, this system could bring locally heavy rains to portions of northeastern Mexico and southern Texas over the weekend. * Formation chance through 48 hours…high…70 percent. * Formation chance through 5 days…high…70 percent.
Alex, Bonnie, and Colin have been crossed off the 2022 list so far. Climate "normals" would usually call for three named storms by August 3. Four named storms are typically seen by August 15.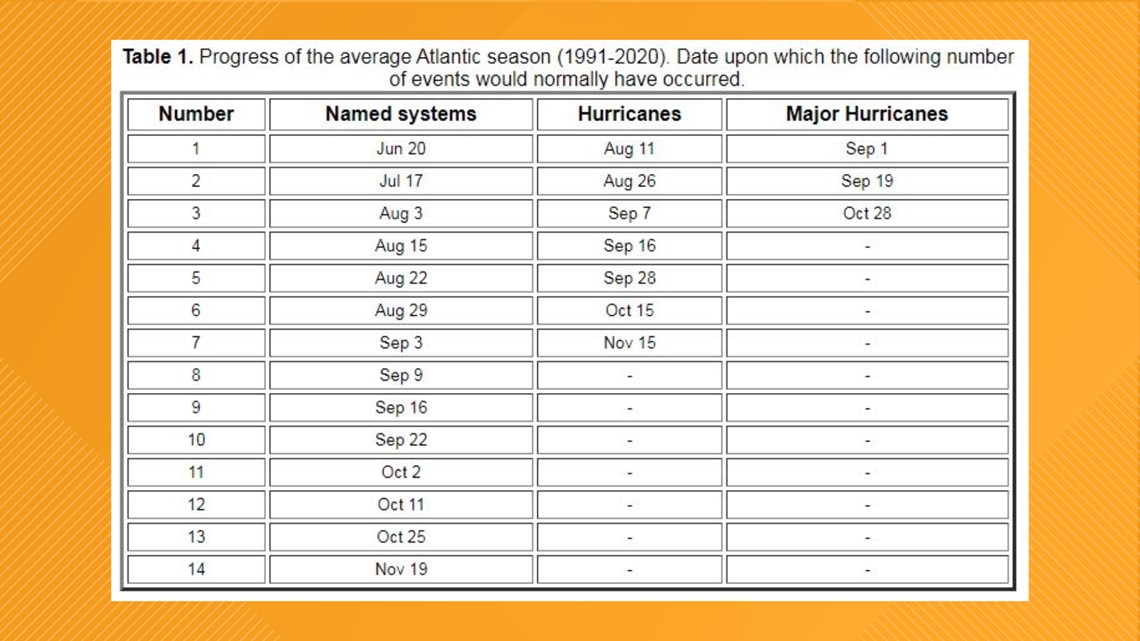 Credit: NHC
Progress of the average Atlantic season (1991-2020). Date upon which the following number of events would normally have occurred.
SEASONAL OUTLOOK: The National Hurricane Center has updated its seasonal outlook and they still expect an above-average tropical season. NOAA's 2022 outlook now calls for 14-20 named storms, 6-10 hurricanes, and 3-5 major hurricanes in total.
Last year, NOAA released the new seasonal averages for the Atlantic basin. According to the 30-year data from 1991 to 2020, the new averages include 14 named storms, 7 hurricanes, and 3 major hurricanes. The previous Atlantic storm averages, based on the period from 1981 to 2010, were 12 named storms, 6 hurricanes, and 3 major hurricanes. The averages from 1951-1980, were 11 named storms, 5 hurricanes, and 1 major.
If you didn't get a chance to catch our hurricane special, you can watch it in its entirety right here.
Tim Deegan, Chief Meteorologist at First Coast News, has been preparing the First Coast for hurricanes for over 40 years.
First Coast News Meteorologist Lauren Rautenkranz sits down with Deegan in a special broadcast event, Hurricane Ready 2022: 40 Years of Forecasting, to pick his brain about severe weather events and to discuss the upcoming Hurricane season.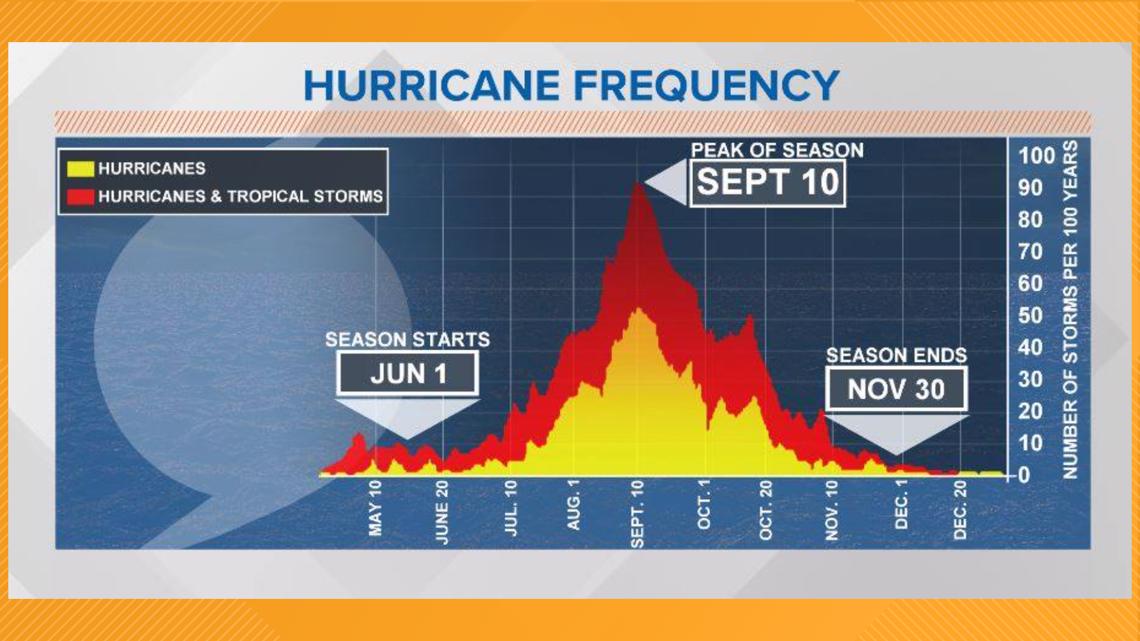 Credit: FCN
Hurricane safety and preparedness are critically important even before the season begins on June 1. NOAA's National Weather Service provides resources to prepare for hurricane hazards and real-time updates about active weather systems from the National Hurricane Center at www.hurricanes.gov.
The Atlantic hurricane season officially runs from June 1 to November 30.
Top Feature Photo: WFMY News2: JACKSONVILLE, Florida