The Guardian: LONDON, England – Millions experienced severe disruption as record-breaking winds from Storm Eunice caused death and injury, huge structural damage, transport chaos and widespread power cuts.
Four people were confirmed to have died in the UK and Ireland by Friday evening. The Met Office said a wind speed of up to 122mph was recorded at the Needles on the Isle of Wight on Friday, provisionally the highest ever in England, and described the storm as the worst since the Burns' Day storm 32 years ago in which 47 people died.
About a third of the UK population – about 20 million people – were told to stay at home as the Met Office imposed two rare red warnings for much of southern England, south Wales and London.
The disruption closed thousands of schools and businesses. About 435,000 homes were left without power early on Friday evening. Hundreds of train services and flights were cancelled, and major roads closed.
Storm Eunice brought snow to Paisley, Scotland. Photograph: Jeff Holmes/Rex/Shutterstock
A woman in her 30s was killed when a tree fell on a car in Haringey, north London, while a council employee in his 60s was killed by a falling tree in County Wexford, south-east Ireland, as he worked during the storm.
Later, Merseyside police said a man in his 50s had died in Netherton after debris struck the windscreen of a vehicle he was travelling in. Hampshire constabulary also confirmed that a man in his 20s died when the car he was travelling in hit a tree. A second man is being treated for serious injuries in hospital.
Five people have died in mainland Europe after the storm made landfall there, including a 79-year-old British man in the Belgian city of Ypres.
Buildings ranging from the lifeboat station at Sennen on the western tip of Cornwall to the Millennium Dome in London sustained damage. About 1,000 people were evacuated from the Dome as panels were ripped off by the storm.
The top of a church spire in Wells, Somerset, was toppled by gusts and a tower at Grain power station in Kent appeared to have collapsed.
A beloved tree on a square in Bude, north Cornwall, crashed to the ground, one of many hundreds across southern Britain that fell, blocking roads and bringing down power lines.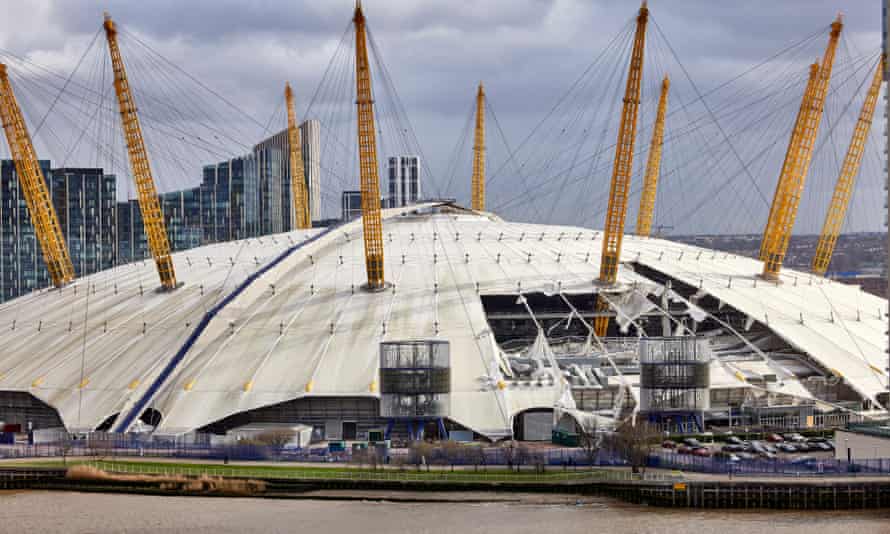 The UK government's Cobra civil contingencies committee met to discuss the response and the army was standing by. The London fire brigade and the South Central ambulance service NHS foundation trust declared major incidents.
Before Friday, the strongest gust recorded in England was 118mph at Gwennap Head in Cornwall on 15 December 1979. As well as the 122mph gust on the Isle of Wight, there were blasts of 70-80mph widely across southern Britain.
Tom Morgan, a meteorologist at the Met Office, said better storm tracking and messaging than for the Burns' Day storm and for the great storm of 1987 meant that people had been better prepared for Storm Eunice.
He said: "It's been highly publicised and that has meant people have been aware of it. Hopefully, people heeded the warnings and didn't travel."
Eunice brought many transport services to a standstill. Trains were cancelled throughout Wales and in other areas, with 50mph speed restrictions in many places. Services into London stations, including Waterloo and later Euston, were suspended for parts of the day.
With police and motoring organisations warning drivers to stay at home, the two Severn crossings into Wales were closed – the first time they have ever both been shut because of wind at the same time. The Humber and Dartford Bridge crossings were also closed for periods. Many roads, including a motorway, were blocked by fallen trees.
Ferry services across the Channel and Irish Sea were suspended as the storm whipped up high waves. The port of Dover announced it was closed "in the interests of customer and staff safety", meaning no ferries could operate between Dover and Calais.
Hundreds of flights were cancelled by British Airways and others, and some arrivals were diverted or took several attempts to land at Heathrow and Gatwick airports in high winds.
The Energy Network Association said at 4pm the network companies had reconnected more than 711,000 customers, but about 435,000 customers were still without power.
The Environment Agency issued 10 severe flood warnings – eight along the Severn and two along the Wye – meaning there was a danger to life, as well as dozens of flood warnings and more than 100 flood alerts. Though the high tides came and went without serious flooding, the agency warned that homes could still be at risk in the coming days.
Sports matches and shows were cancelled and some holidaymakers, including in Newquay, north Cornwall, had to evacuate or retreat inland.
Some people hoping to hunker down with a takeaway during the storm were also disappointed. Deliveroo, JustEat and UberEats paused deliveries in affected areas, including London, Wales and parts of the south-east and west, owing to fears for the safety of their riders.
More windy weather on Saturday could affect cleanup efforts in the aftermath of Storm Eunice, the Met Office said. "The winds themselves could cause minor disruption, but given the expected impact from Storm Eunice on Friday, these conditions on Saturday may hamper any clear-up operations."