BBC News: WASHINGTON, By Brandon Drenon – A New York City court has imposed sweeping restrictions on British billionaire Joe Lewis as he awaits trial on insider trading charges.
Mr Lewis, 86, pleaded not guilty and was granted $300m (£230m) bail.
But the Manhattan judge required him to surrender his passport and banned him from using his superyacht.
Mr Lewis is not allowed to travel abroad, including to the Bahamas oceanside resort he reportedly co-owns with Tiger Woods and Justin Timberlake.
The tycoon, whose family trust owns Tottenham Hotspur football club, can still use his private plane – for business – within the boundaries of restricted domestic travel.
During Wednesday's hearing before Judge Valerie Figueredo, the bail bond was secured by Mr Lewis' 223ft (68 metre) yacht, the Aviva, and private aircraft.
Mr Lewis was charged with 16 counts of security fraud, and three counts of conspiracy for crimes alleged to have taken place between 2013-21, according to the 29-page indictment.
Lawyers for Mr Lewis, whose net worth is estimated more than $6.4bn, called the charges an "egregious error".

At-a-glance: Key allegations
Mr Lewis allegedly wired pilots Mr O'Connor and Mr Waugh $500,000 each to buy stock in a company, after tipping them off with confidential information. Following the loan, Mr O'Connor allegedly texted a friend "Boss lent Marty and I $500,000 each for this… the Boss has inside info"
It is claimed Mr Waugh's record for the loan's repayment, which included no interest, read "loan payback for MRTX", the company for which he allegedly received insider information
Mr Lewis once allegedly tipped off his "girlfriend" to buy stocks, while in South Korea. He allegedly logged into her bank account himself and used almost all of her available funds to invest into a company, it is claimed
The girlfriend is said to have emailed Mr Lewis "all good & all confirmed" after buying and selling stock allegedly based on private information he received from a visitor on his yacht
Mr Lewis is also accused of tipping off three other friends – including one with whom he was romantically involved and another with whom he occasionally played poker with in Argentina

The allegations are "ill conceived" and will be "vigorously defended in court," Mr Lewis' lawyers said.
New York prosecutors allege he hatched a "brazen" scheme that enriched his friends, which include two of Mr Lewis' pilots, who are facing charges, too.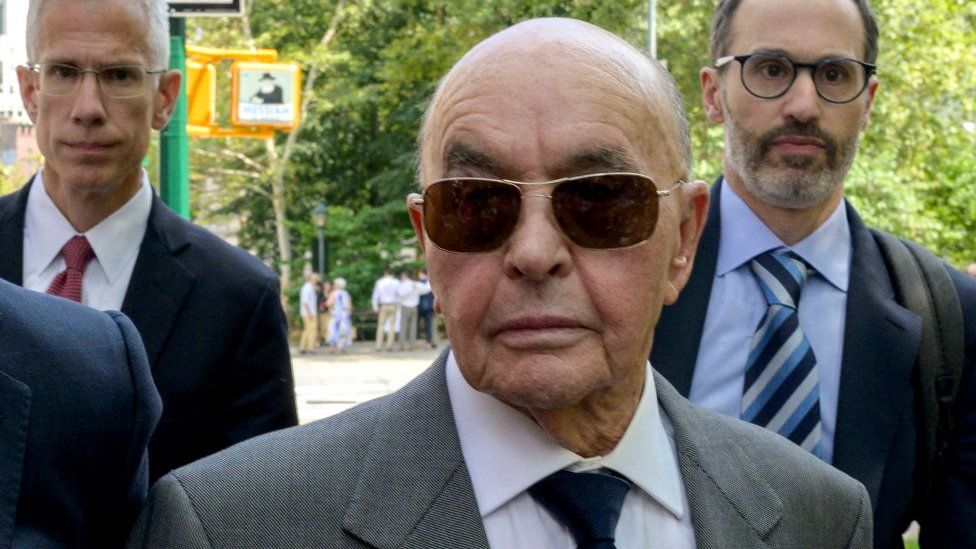 The pilots, Patrick O'Connor and Bryan Waugh, also pleaded not guilty to insider trading charges.
Mr O'Connor and Mr Waugh, of New York and Virginia respectively, are accused of illegally making millions of dollars from Mr Lewis' tips.
Their bail was set at $250,000 each.
Top Feature Photo: Image caption,Joe Lewis' superyacht – the Aviva – helped the billionaire secure his bail bond on Wednesday