Associated Press — The Israeli government formally declared war Sunday and gave the green light for "significant military steps" to retaliate against Hamas for its surprise attack from the Gaza Strip.
More than 24 hours after Hamas launched its unprecedented incursion out of Gaza, Israeli forces were still trying to crush the last groups of militant fighters holed up in several towns of southern Israel.
At least 600 people have reportedly been killed in Israel and more than 300 have been killed in Gaza as Israeli airstrikes pound the territory.
Authorities were still trying to determine how many civilians and soldiers were seized by Hamas fighters during the mayhem and taken back to Gaza. From videos and witnesses, the captives are known to include women, children, and the elderly.
Supporters of Israel and backers of the Palestinian cause held competing rallies in several American cities Sunday over the conflict that has killed hundreds and wounded thousands in the Middle East.
The demonstrations and involvement of American political leaders show the far-reaching ramifications of a conflict that's already prompted the U.S. to order naval forces deployed to the Eastern Mediterranean, ready to assist Israel.
Nasser Abu Quta lost 19 members of his family in an instant when an Israeli airstrike blew up his home in a crowded refugee camp in the southern Gaza Strip.
The airstrike in Rafah, a southern town on the border with Egypt, came as Israeli forces intensified their bombardment of targets in the Gaza Strip following a big, multi-front attack by Hamas militants Saturday that had killed over 700 people in Israel by Sunday night.
So far, the waves of airstrikes had killed over 400 Palestinians, including dozens of women and children, health officials reported Sunday.
But Abu Quta doesn't understand why Israel struck his house. There were no militants in his building, he insisted, and his family was not warned.
The Israeli military did not immediately respond to a request for comment about the strike on Abu Quta's home.
More than 130 held hostage in Gaza, according to Hamas and Islamic JihadShare
A senior Hamas official says the militant group is holding more than 100 people captive after its unprecedented assault on Israel.
Mousa Abu Marzouk made the remarks to Arabic language news outlet al-Ghad on Sunday. The figure is in addition to more than 30 people said to be held by the Palestinian Islamic Jihad militant group.
During their rampage through southern Israel, militants dragged back into Gaza dozens of captives, among them women, children and the elderly. Their precise number hadn't been clear until the two militant groups made their announcements.
12:42 PM PDT
Israeli rescue service says it retrieved about 260 bodies from a music festival attacked by HamasShare
The Israeli rescue service Zaka says its paramedics removed about 260 bodies from a music festival attended by thousands that came under attack by Hamas militants.
The total figure is expected to be higher as other paramedic teams were working in the area.
Video aired on social media and by Israeli news outlets showed dozens of festival goers running through an open field as gunshots rang out. Many hid in nearby fruit orchards or were gunned down as they fled.
11:32 AM PDT
Islamic Jihad leader says dozens of Israelis held captive in GazaShare
The leader of the Palestinian Islamic Jihad group says militants in Gaza are holding dozens of Israeli prisoners, including more than 30 held by his group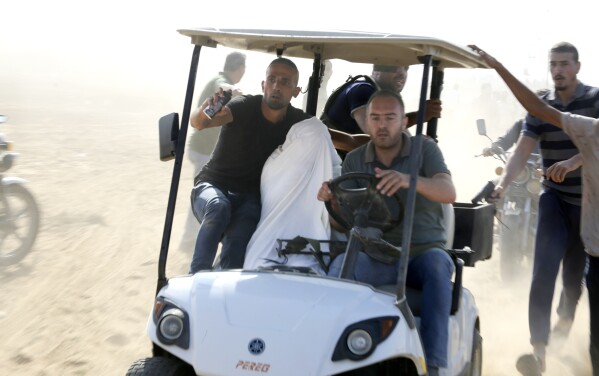 Ziad Nakhaleh said in a televised speech Sunday night that the captives will not be released until all Palestinian prisoners in Israeli jails are set free.
The Palestinian Islamic Jihad group took part in the operation that Hamas carried out Saturday in which hundreds of Israelis were killed.
"The prisoners that are being held are in the tens and I can say that they are much more than that," said Nakhaleh, who usually lives in Beirut.
He added that the Palestinian Islamic Jihad has more than 30 prisoners.
Nakhaleh added that Israel should acknowledge defeat.
10:36 AM PDT
US will send a carrier strike group to the Eastern Mediterranean in support of Israel
BY TARA COPPShare
UPDATED at 1:45 pm
Defense Secretary Lloyd Austin said Sunday he has ordered the Ford carrier strike group to sail to the Eastern Mediterranean to be ready to assist Israel after the surprise attack by Hamas that has left more than 1,000 dead and thousands wounded on both sides.
The USS Gerald R Ford and its approximately 5,000 sailors and deck of warplanes will be accompanied by cruisers and destroyers in a show of force that is meant to be ready to respond to anything, from possibly interdicting additional weapons from reaching Hamas and conducting surveillance.
The large deployment, which also includes a host of ships and warplanes, underscores the concern that the United States has in trying to deter the conflict from growing. The Israeli government formally declared war Sunday and gave the green light for "significant military steps" to retaliate against Hamas.
The Norfolk, Virginia-based carrier strike group[ was already in the Mediterranean. Last week it was conducting naval exercises with Italy in the Ionian Sea. It's the United States newest and most advanced aircraft carrier and this is its first full deployment.