News Release: HAMILTON, Bermuda – The third year of the Government's Professional-Student Relationship Programme ended early due to the coronavirus.
"The custom completion ceremony to honour collaborators and participants was unable to proceed; however, the Government takes this opportunity to thank all those who helped contribute to this year's programme.
Collaboratively, the Office of Project Management and Procurement, Ministry of Public Works, Department of Planning, Department of Health, and the Department of Workforce Development, in partnership with Bermuda Motors Ltd., raised awareness and prepared our young people for the world of work, and academia in the built environment and automotive industry.
This was accomplished through a range of experiential activities.
The Ministry of Public Works' trainees Tre Caines, Zeeko Johnstone, Jamar Dill, and Jarreau Daniels instructed workshops and delivered presentations covering architectural design, mechanical and electrical engineering, and energy management systems.
"The Government's learned technical officers Derrick Simmons, Omar Douglas, Armell Thomas, and Kevin Brown shared their valued experiences in construction site safety, building control, and residential plumbing systems.
Vanbi Holdipp, our 'superman', organized transportation and construction site visits.
Prospect Depot needs highlighting. In addition to giving a presentation on tools and materials, Kevin Brown organized and built a simulated residential plumbing system.
"Following an inspection of the system, all students in the programme competed to see who could rebuild it in the least time.
"We are very grateful to Sheridan Ming, and Leslie Mills for collaborating with us this year.
The Human Resource Department of the Ministry of Public Works, consisting of Denise Davis, Arianna Hodgson, and Camille Smalling, hosted visits to the Tynes Bay Waste to Energy Facility and Government Quarry.
The Government also thanks Bermuda Motors Ltd. and its team consisting of Managing Director
William Medeiros, Reno Mascetti, Craig Trott, and their team of technicians, who conducted experiential workshops on Automotive Engineering and Auto Body Repair.
And finally, commendations to Bermuda's able-bodied, determined young students from the following schools:
CedarBridge Academy: Devin Augustus, Asrael Basden, Shawn Bremar, Rico Carreiro, Kevin Davis-Edwards, Coleridge Fubler, Jaden Furbert, Bruce Gibbons, Gatwoine Minors, Lejae Nisbett, Tybrae Robinson, Wahhaj Shakir, Jibri Smith, Andre Woolery, and Kenneth Pushá (former student).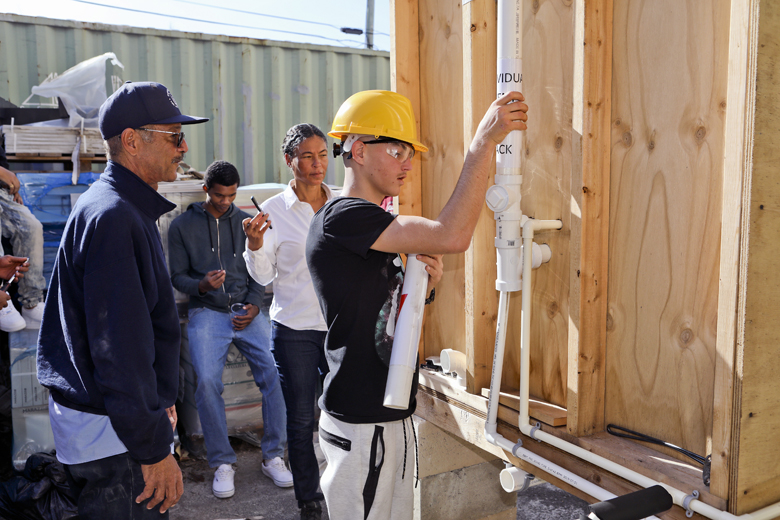 Top Feature Photo: Shawn Bremar