BBC News: By Katie Wright & Becky Morton – England fans are gathering as excitement builds ahead of their team's Euro 2020 final against Italy.
Supporters began arriving at Wembley hours before the eagerly anticipated 20:00 BST kick-off at the stadium, which will host 60,000 fans later.
Revellers have also filled the streets in central London ahead of the game.
At Wembley, footage showed dozens of fans trying to force their way past barriers to get into the stadium.
A spokesperson for Wembley Stadium said: "We are dealing with an incident that occurred at the outer security perimeter area of the stadium, with support from police.
"Safety measures were quickly activated in the relevant areas and there were no security breaches of people without tickets getting inside the stadium."
From living rooms to pubs, fan zones and a packed Wembley stadium, millions are expected to watch Sunday evening's match.
There are huge crowds in Leicester Square and Trafalgar Square in central London, where a ticketed Uefa fan zone has been set up.
Many pubs in the area are fully booked and those turned away have filled the streets, chanting and blaring air horns.
Flares were set off outside King's Cross station, while some fans climbed on top of a bus near Wembley Stadium.
Videos on social media also showed bottles being throw in Leicester Square.
In a tweet, the Met Police urged supporters to "keep themselves safe", adding that people had been seen jumping off street lamps or hoardings in central London.
Fans have been told not to come to the capital unless they have match tickets, or somewhere booked to watch the game.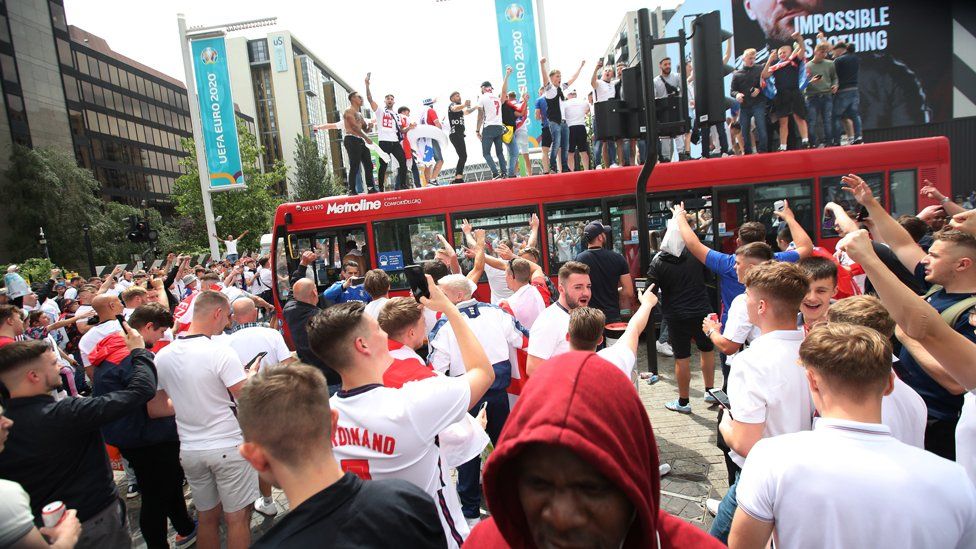 One of those gathered near Trafalgar Square, Ross Belton, 22, from Crawley in west Sussex, said: "This is by far one of the biggest sporting days in my lifetime, I can't think of anything that really comes close.
"If I ever get married it'll have to be a pretty special service to top the feeling I have right now!"
Supporters also gathered at the 229 venue in central London to watch an impromptu gig by The Lightning Seeds, who were reunited with comedians David Baddiel and Frank Skinner to perform the Three Lions football anthem.
They were introduced by Sir Geoff Hurst, who scored a hat-trick as England won the 1966 World Cup Final, in front of a jubilant crowd.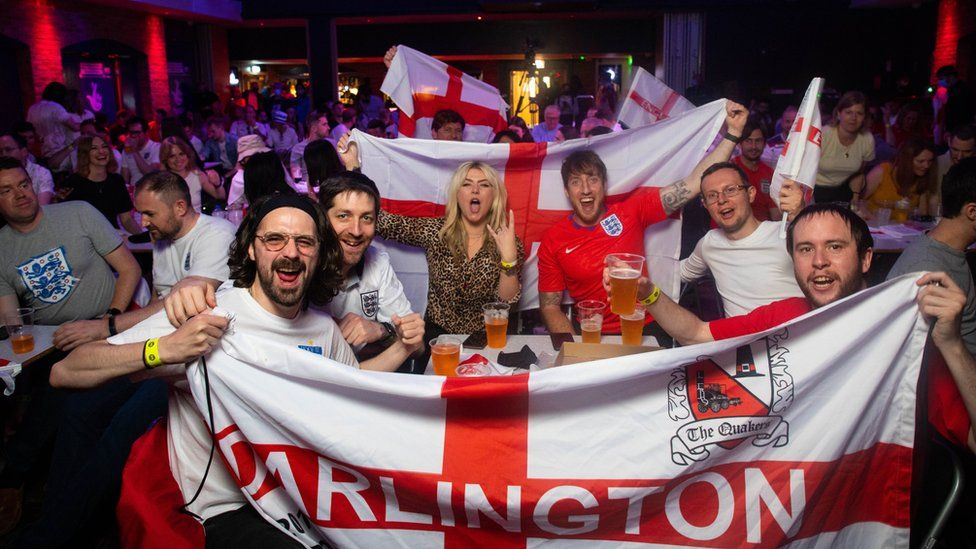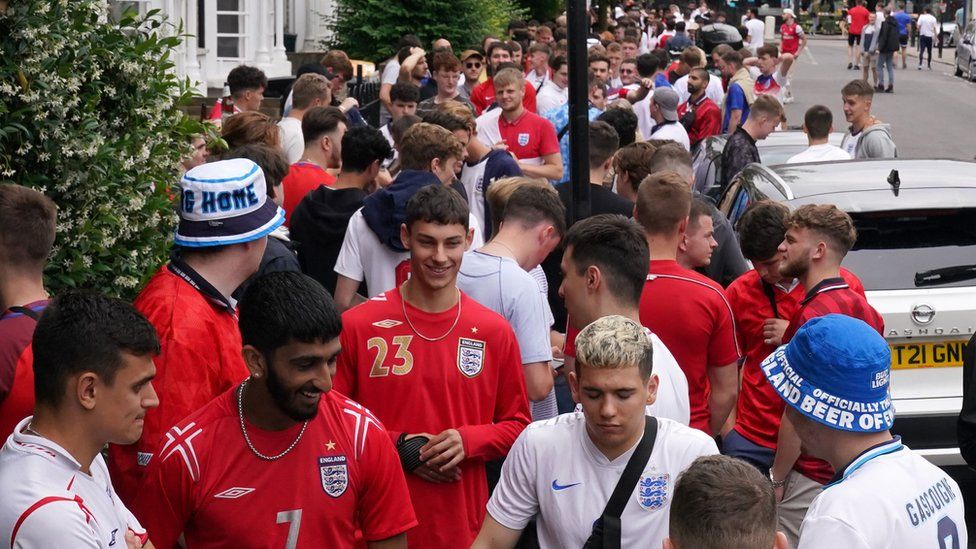 Italy are expected to have several thousand UK-based supporters at the game, while a maximum of 1,000 fans have been given special permission to fly from Italy for the final.
England's coronavirus restrictions are not due to be lifted until 19 July, so certain rules still apply – such as up to six people or two households being able to meet indoors.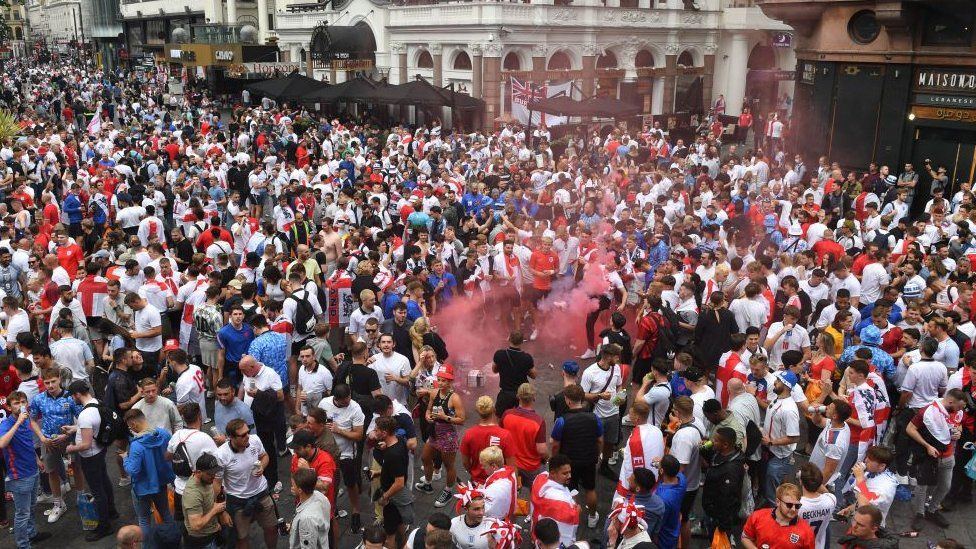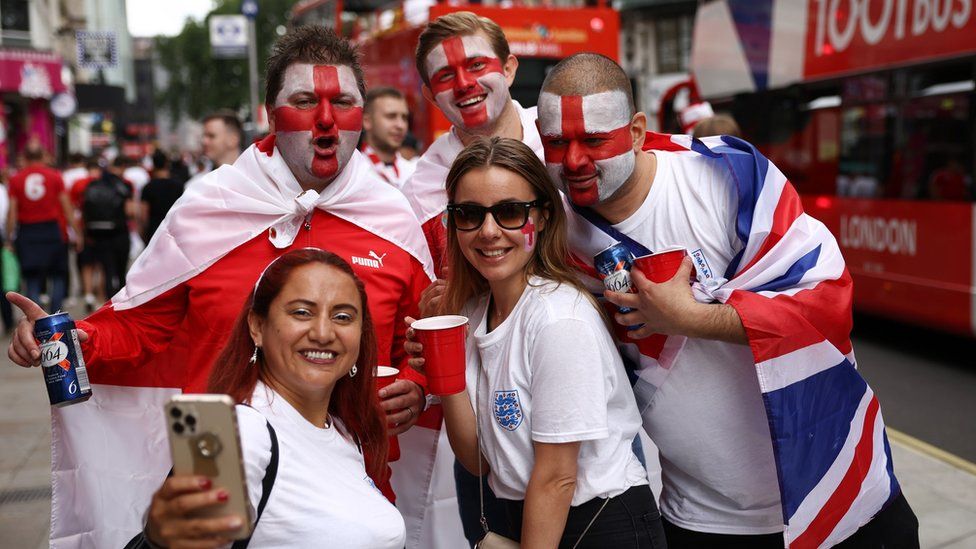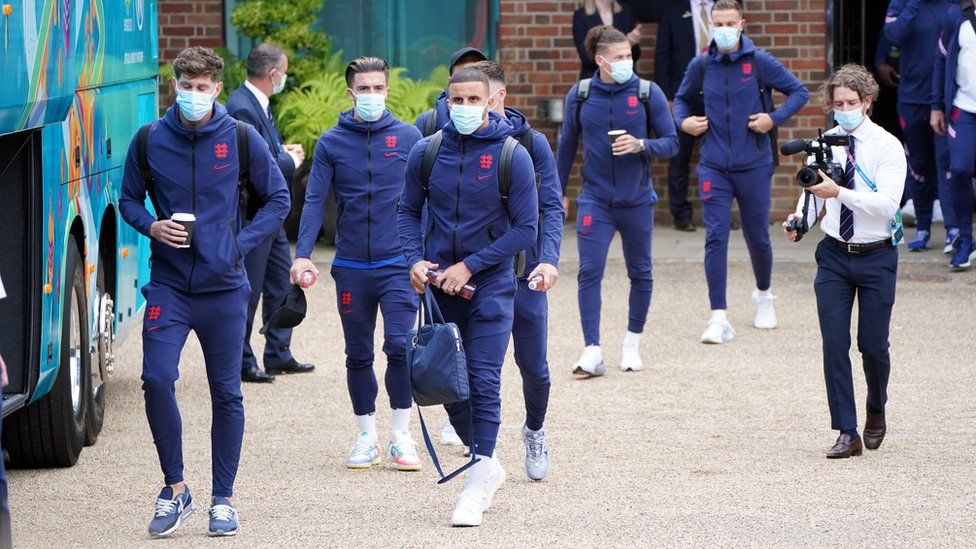 "We hope that you've enjoyed watching us play," he said. "I'm very grateful to all of the players and the incredible staff I've got with me, that we've been able to get to our first final for 55 years.
"But of course we know now we've got to deliver for you, so we'll be doing everything we can."
The Football Association's chief executive, Mark Bullingham, told the BBC's Andrew Marr Show that the mood in the England camp was "very calm".
He said Southgate had built a really strong environment and created a "band of brothers feeling" in the team, which had a "fantastic togetherness" and "resilience".
"We're in a good place. It will be a tough game but we're going to give it a good go," he added.
Asked what he would say to England fans considering booing the Italian national anthem before the match, he said: "We've been really clear we do not support that. We want them to really get behind the team… but get behind the team in the right way."
The prime minister tweeted a video on Sunday, saying: "Best of luck to England tonight. It's been an incredible journey so far, but we are all hoping you can go one better and bring it home tonight."
His words were accompanied by a brass band version of the unofficial England football anthem Sweet Caroline, and the prime minister added: "Football's coming home!"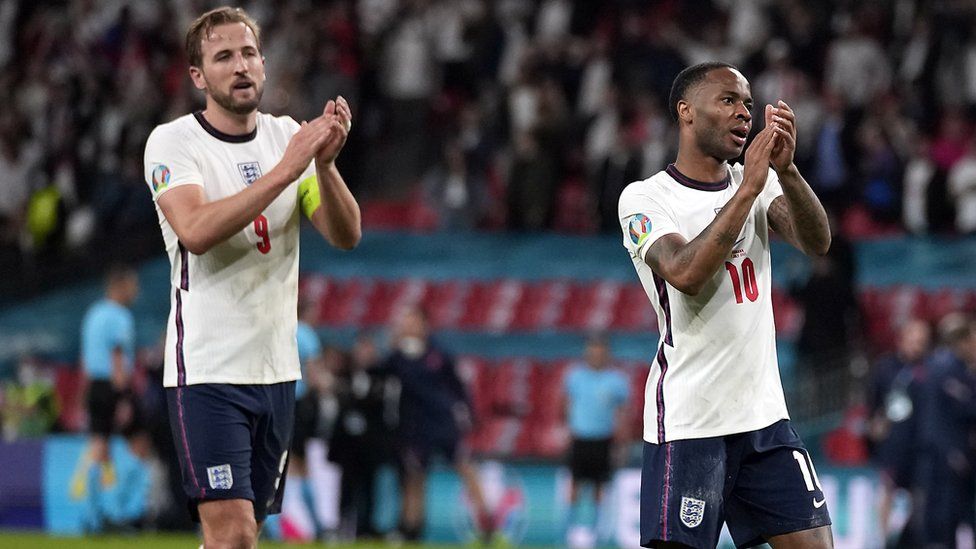 The Queen's message recalled presenting the World Cup trophy to Bobby Moore in 1966 as she praised the current team's "spirit, commitment and pride with which you have conducted yourselves".
She wrote: "Fifty-five years ago I was fortunate to present the World Cup to Bobby Moore and saw what it meant to the players, management and support staff to reach and win the final of a major international football tournament.
"I want to send my congratulations and that of my family to you all on reaching the final of the European Championships, and send my good wishes for tomorrow with the hope that history will record not only your success but also the spirit, commitment and pride with which you have conducted yourselves.
Top Feature Photo: Copyright Getty Images –

Fans started gathering outside Wembley hours before kick-off