Op-Ed by Armell Thomas, President of the Bermuda Public Services Union…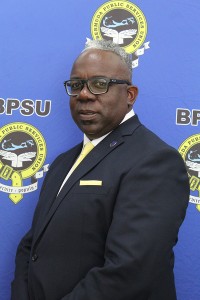 I read with interest the former One Bermuda Alliance Finance Minister's call for a cut of Public Officers' salaries.
While Bob Richards lobbies hard for the pay cuts of middle-class workers, one must not forget his previous propensity for utilizing taxpayers' dollars for the benefit of rich, privately owned companies.
It was, after all, Mr Richards who fought relentlessly for the now infamous Morgan's Point guarantee agreements which ultimately cost the taxpayer an estimated $180 million due to default. Let us also not forget that Mr Richards and the former administration contractually obligated Bermuda's taxpayers to a minimum revenue guarantee for the Aecon airport deal; a guarantee determined by air passenger traffic. The public awaits to learn how much this guarantee will cost taxpayers due the ongoing shutdown of the Island's airport.
In light of Bob Richards' track record, there should be a cautionary note to the financial guidance he has offered to the current administration.
It is worthwhile reminding Mr Richards that in 2014, Bermuda's Public Service Unions made an unprecedented step by submitting to his administration recommendations for approximately $65 million in cost savings; many of these suggestions came directly from public service employees. Unfortunately, the OBA administration failed to implement many of the Union's recommendations.
Reactionary, panic-driven calls for across-the-board cuts are not the answer and have been proven time and time again, both locally and across the globe, to be not only ineffective and inefficient, they can also be very damaging to both service levels and have far-reaching implications on a country's economy.
The role of Bermuda's Public Service is to serve society and provide a variety of services including healthcare, defense and security, law and order, education, physical infrastructure, transportation, telecommunications, revenue collection, etc. Without Public Service employees, Bermuda simply cannot function. Public Officers are professionals dedicated to serving Bermuda; many of whom have taken on additional responsibilities for years without any additional compensation due to on-going budgetary constraints and hiring freezes.
Public Service employees are taxpayers; cuts to their salaries will negatively impact payroll tax revenues. Public Officers are also the largest employee consumer group on the Island; they are major supporters of local businesses including retail stores, restaurants, gyms, salons, barbers, daycare, etc. Are these entities prepared for the consequences associated with a cut in Public Officers' disposable income?
Public Officers are tenants and have rents to pay; they have mortgage obligations. Are Bermuda's landlords and financial institutions prepared to offer concessions to mitigate against these cuts?
There must be shared sacrifice and a re-balancing of the burden; this is even more important now given the economic crisis the country is facing as the inequities in Bermuda have been magnified. While Mr. Richards called for a pay-cut for Public Officers, it was not surprising that he did not also call for private sector companies and individuals who can afford to do so, take a similar cut by paying an increase in their taxes.
I will take this opportunity to reiterate that the protection of workers, and in particular our Members, is the Union's priority. This, however, will not prevent us from working with the Government. In fact, in a press statement dated March 17, I reminded the Government of the importance of collaboration with its Union partners, especially during times of national crisis.
On March 26, I called for the Government to bring together a taskforce of the Island's Unions and employers to help co-ordinate the national effort against the impact of the pandemic. The Government recently announced that it will be forming an Economic Advisory Committee to seek advice from "key stakeholders in the Bermuda economy and community". The BPSU is awaiting confirmation that Bermuda's Trade Unions will be invited to be a part of this initiative.
In another press statement on April 2, I publicly stated that the BPSU supports the Premier's plea to Public Officers that they must "move beyond the barriers of their job in order to provide service to the people of Bermuda" and "make every effort to ensure those who need the services provided by Government can receive them."
The BPSU recognises that the economic challenges facing Bermuda as a result of the pandemic are daunting, and as our track record will show, we have always been willing to collaborate with Government on initiatives that will ensure an efficient and effective civil service.
Given that Bob Richards no longer speaks on behalf of the Government, I call on the Government to be clear on its expectations and benchmarks regarding its revamping of its 2020/21 budget in light of the impact of Covid-19. The BPSU cannot agree to any austerity measures until we understand the current financial picture and how the Bermuda Government plans to claw its way out of this downturn. Once this has been established, collectively the BPSU and the Government can work on a way forward that is in the best interest of all.
The BPSU will remain committed to encouraging our Members to provide quality public services while at the same time defending public service employees against unwarranted attacks on their livelihood.