Anxiety about Bermuda's economy has placed consumer confidence at an all-time low, "as fewer businesses intend to offer their employees a raise in the coming year, and some plan to downsize in response to the Island's economic conditions".
According to the latest Bermuda Business Confidence Index Report (BCI), that "anxiety about the economy is now heightened among business leaders, and a trickle down effect of the private sector's economic concerns is evident among residents".
"Indeed, consumer confidence has also declined notably and now sits at the lowest level for the past five years," the report said.
"At the same time, a sizeable number of businesses anticipate having to make cuts to their expenditures and imports of goods for resale in Bermuda, though importers do not expect much impact on the value of goods, at least for the time being.
"Interestingly, the long-term outlook is perceived more positively than the near term, with four in ten feeling more optimistic about the coming year than the next six months."
The survey of business owners and executives, launched in 2014, was sponsored by HSBC Bank Bermuda Limited and released yesterday (July 3), to provide "insight into current economic business conditions, anticipated business conditions for the coming year, capital purchase intentions and hiring".
The report said: "Business confidence has dropped notably.
"When asked "what changes would positively impact the Island's business climate, improvements to the work permit process, as well as more growth and increased foreign investment are most often cited".
"A shift in perceptions of the Island's economy over the past couple of years can be seen throughout results. Continuing the same trend as observed in 2018, business confidence has dropped notably and now sits at the lowest level.
"This decline stems from waning perceptions across nine index factors, most notably in regards to the stability and future direction of Bermuda's economy."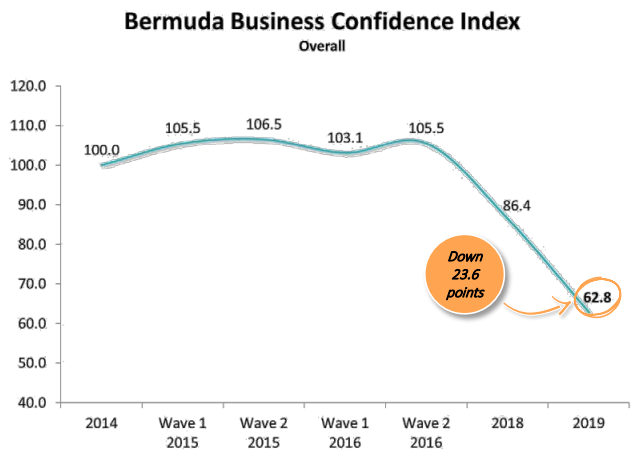 "The majority of business leaders now consider the current economic direction to be negative, and this perception is especially elevated among those operating internationally – likely in relation to the addition of Bermuda to the European Union's tax haven blacklist," the report continued.
"No doubt, the latter has had an impact, but the Island's current economic woes began nearly two years ago. This year, immigration is in the spotlight as a key opportunity for change.
"At the same time, taxation is considered among the top issues facing the Island by a notable minority, as is the cost of doing business. In order to turn things around, business leaders are calling on government for immigration reform, increased foreign investment, and better tax policies."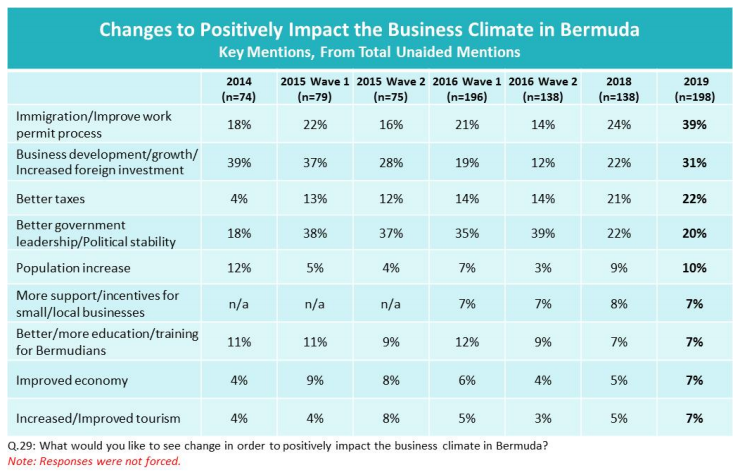 Participants included the Bermuda Chamber of Commerce (BCC), and the Bermuda Economic Development Corporation (BEDC) "also invited their memberships to take part, producing a more in-depth understanding of the current business climate on the Island".
"Participating individuals are provided with advance notification of the Business Confidence Index (BCI) on a confidential basis, prior to the public release of the Index.
"In total, 198 surveys were completed between March 19 and April 10, 2019. It should be noted that the sampling methodology used in this study does not allow for a margin of error to be applied to results. As such, results should be considered directional rather than statistically reliable."
A total of 198 interviews were completed between March 19 to April 10, 2019 with 651 invitations sent out through BCC and BEDC.
The report also noted that "the Island's current economic woes began nearly two years ago".
"This year, immigration is in the spotlight as a key opportunity for change," the report added.
TOP THREE ISSUES FACING BERMUDA BUSINESSES
Cost of doing business
Taxation/Increased taxes
Government/Politics
CHANGES TO POSITIVELY IMPACT BUSINESS CLIMATE
Immigration/Improve work permit process
Business development/growth/Increased foreign investment
Better taxes
Better government leadership/Political stability
39%
31%
22%
20%
BUSINESS CONFIDENCE INDEX 2019
"It warrants mention that business leaders' perceptions of their own organisation's economic wellbeing are more optimistic compared with opinions of the economy of Bermuda more generally.
"Indeed, only a minority of businesses anticipate worsened conditions for their own organisations in the coming year, compared with a growing majority (albeit small) that predicts further economic decline for Bermuda in the next twelve months.
"Nonetheless, as trends for the Island's economy have largely continued towards the negative this year, it is positive to note that a small minority remain steadfast that things will improve (consistent with last year)," the report said.
"Despite these results, there are opportunities to take action and foster a more positive business climate in Bermuda.
"Although business leaders are divided in terms of the amount of effort they have put forth to cultivate positivity in the market, there is a perception that steps could be taken towards increased engagement with the government, better promotion of Bermuda as a business destination, increased support of small/local businesses, and increased employment opportunities for Bermudians.
"Conversely, businesses look to government for improved immigration policies, greater collaboration with the private sector, and reduced taxes."